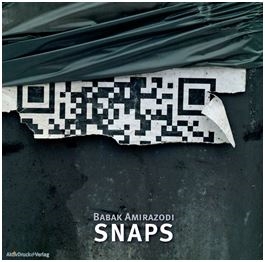 The book SNAPS can be ordered here.
Babak Amirazodi, Snaps, AktivDruck, 2014
ISBN 978-3-932210-14-3 Pb.
210 x 210 mm, 52 pages photos, EUR 19.90
With his book SNAPS, Babak Amirazodi has been breaking new photo medial grounds.
By opening the pages, the reader is invited to a stroll through everyday life. He encounters people, plants, sculptures, graffiti and receives passing impressions of love, loneliness, inequality, and beauty.
The subject matters themselves are unspectacular and seem at random. As becomes obvious at second glance, the imagesí contents are anything but accidental.
In fact, every photograph has aesthetically and photo-technically been arranged in a very thought-out way and displays a surprising contextualization.
The artist composes his photos within the short moment of looking through the view-finder. No intervention in front of the camera, no multi-release, multi-exposure, or subsequent change of the photographic composition.
Colors, forms and linear design already exist in his mindís eye. All he needs is the right subject at the right time to complete his image. It is inevitable that Amirazodiís photos resemble painted pictures. To him, photography is merely another variation of painting or graphics, the artistic disciplines he started out from.
With SNAPS, Babak Amirazodi introduces an artistic photographic approach that does not only surpass generic boundaries. He also produces beautiful, challenging and moving images far beyond the familiar.